Traditional Finnish fish dish -
Loimulohi
- is a smoked fish prepared in a special way on the wooden plank. Typically, for this dish salmon or trout is used.
Preparing of this fish is very simple, that is why it is perfect food idea for cooking while enjoying the outdoors. Taste of this fish is much more interesting and more delicate then normal smoked fish in a box. Fish smoked on the wooden plank is immediately ready for serving and it will look amazingly appetizing on the table.
By the way, wooden planks for fish smoking might be a great gift idea for anglers and fishermen, people who like cottage and countryside holidays and anyone who loves to cook on a campfire or grilling and make experiments with food and taste. Below we will talk about these devices in more detail.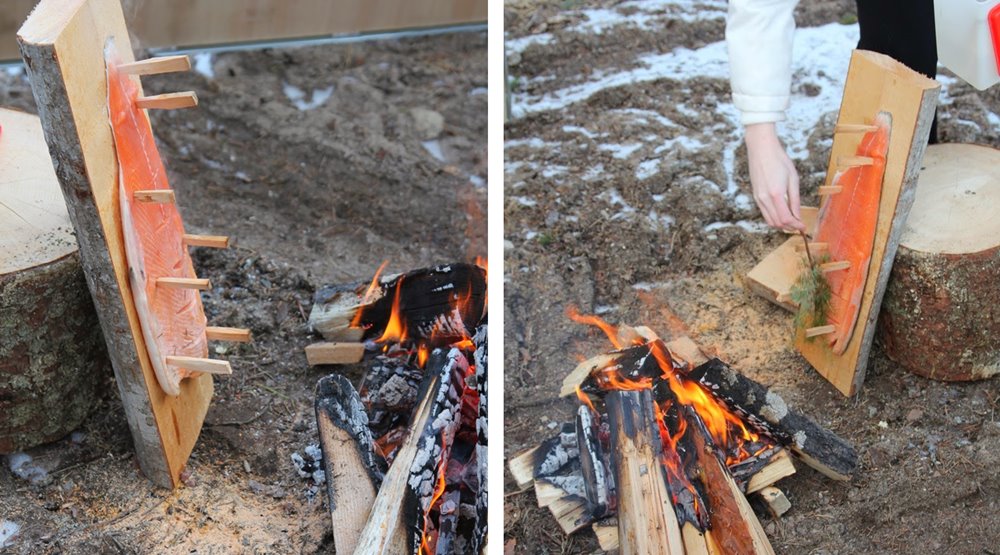 Photo: www.arjenpalapeli.blogspot.fi
What we need to make great smoked fish?
1) Salmon or trout fillet - 2 pieces or about 1 kg (chilled)
2) Sea salt
3) Pepper, lemon
Products in the Finnish store for preparation of this dish:


Trout or salmon
Salmon in Finnish: Lohi.
Trout in Finnish: Kirjolohi.
Trout fillet: Kirjolohifileeta.
Lemon
Lemon in Finnish: Sitruuna.
Preparation of smoked salmon or trout on the plank:
1. Put salmon fillet on wooden plank for smoking skin side down. Pin fillet to a board with wooden pegs. If salmon or trout fillet is small size, the best way is to put each fillet on a separate board. When the fish is ready, you can use this board with smoked fish on it as a serving dish personally. It looks very nice on the table.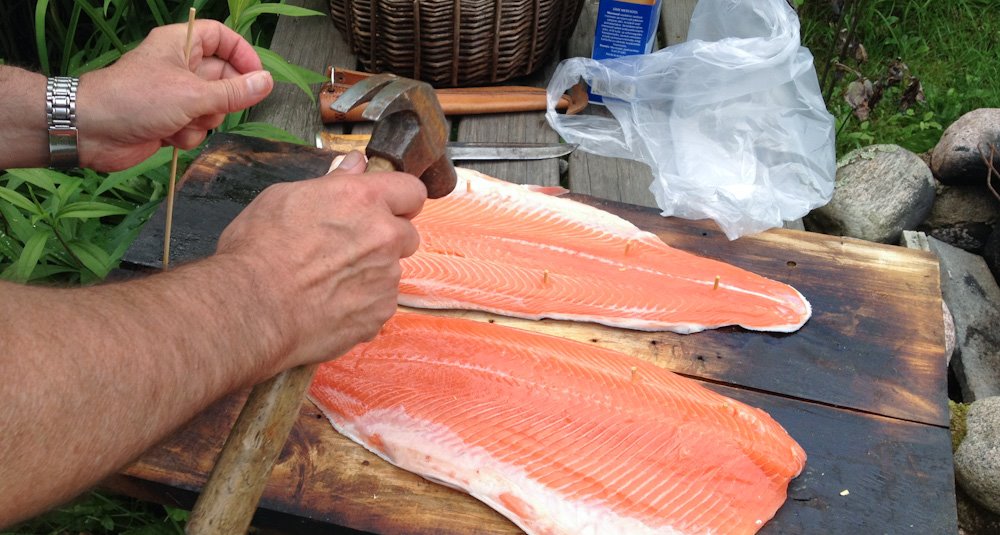 Photo: www.luimupupu.wordpress.com/tag/loimulohi
2. Sprinkle fillets with salt and pepper and drizzle with lemon juice.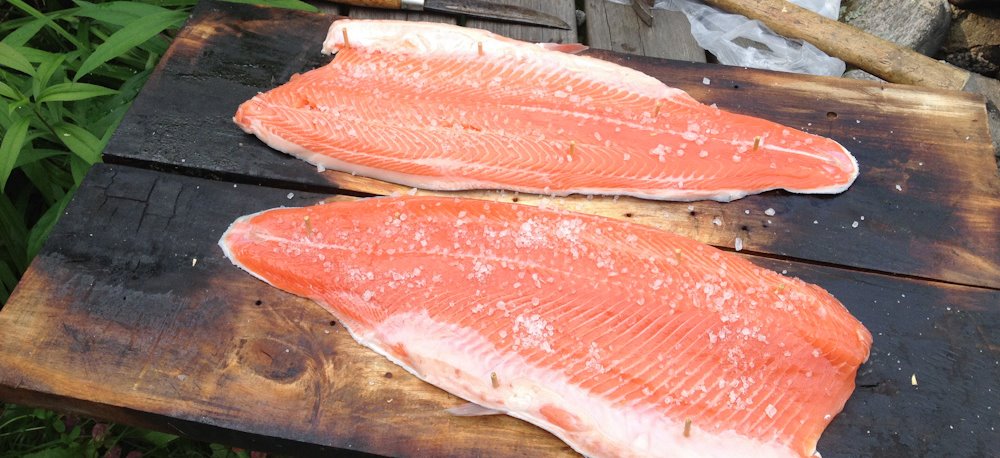 Photo: www.luimupupu.wordpress.com/tag/loimulohi
3. Make a fire and give firewood to burn a little. Put wooden planks with fish vertically on the edge of campfire. The distance between fire and fish should be about 20 cm.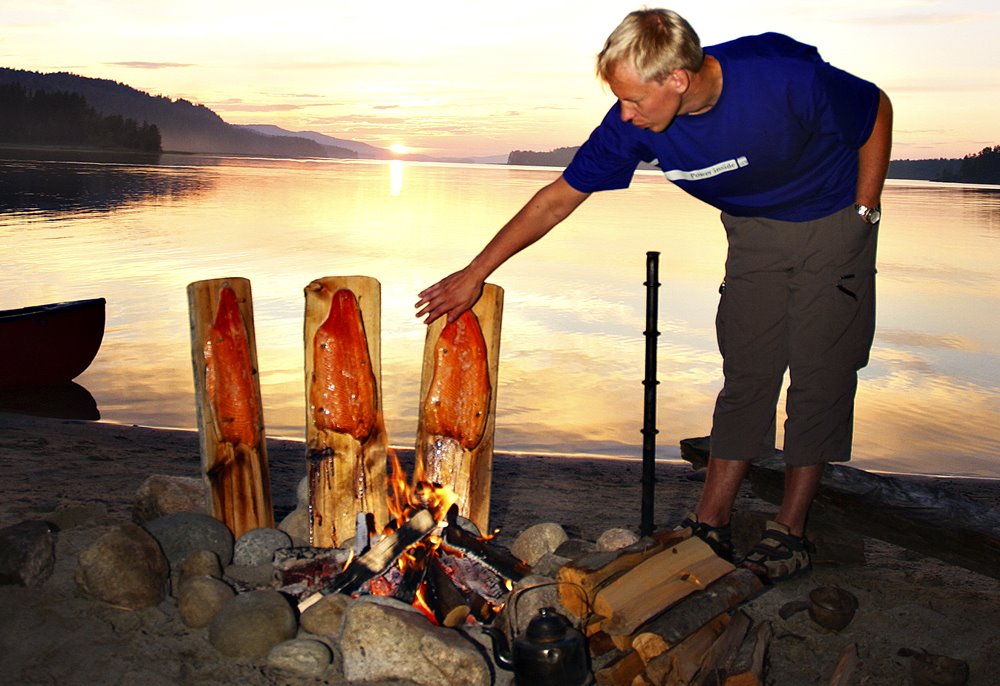 Photo: VisitFinland.com
4. Depending on the size and thickness of the fish, smoking time is approximately about 1 hour. You can sprinkle the fish with lemon juice from time to time.
5. Serve the fish warm, no need to remove it from the plank (it is nice to use wooden plank and a plate). This dish tasty. juicy, with slightly smoky aroma and beautiful appearance.
Video recipe how to make smoked fish on a plank on the fire
Wooden planks for fish smoking
For fish smoking this way, any wooden board or plank is suitable. Fish lovers and smoke fish experts can use boards of various types of wood such as birch, red cedar and others. Smoky flavor and aroma may depend on the wood species.
Ready to use wooden planks for smoking can be found in many household stores in Finland. You can find very simple smoking planks, and real devises for culinary art, which might be ideal as a gift.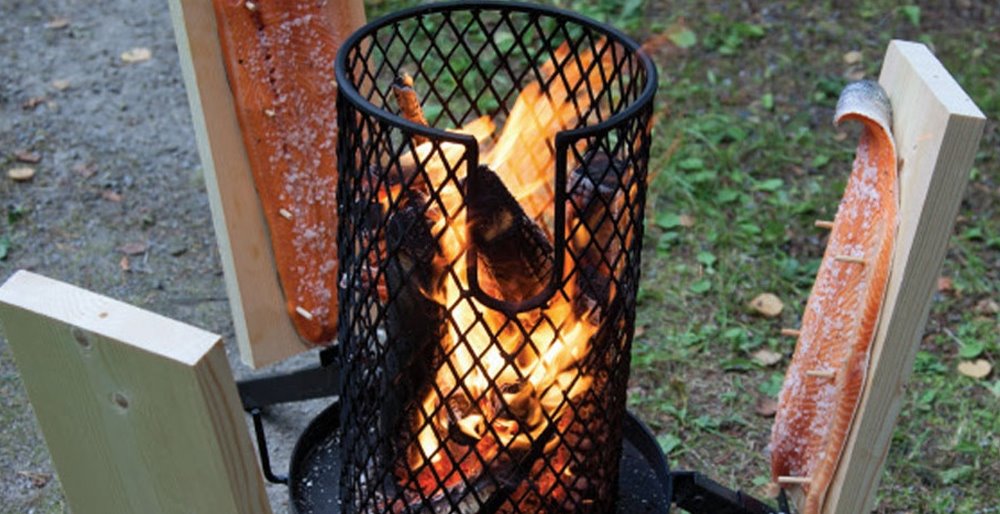 Copyright: Mustang. Kuva: Mustang.
Mustang company offers a special mobile unit to fire with wooden boards for smoking. Boards are mounted on the legs and you can adjust the distance from the fire. It is possible to buy such a device, for example, in
Hobby Hall
store.

Photo: www.rikosseuraamus.fi
You can find such beautiful and elegant options of birch wooden planks for smoking with ready wooden nails. Manufacturer
Vaasan vankila
.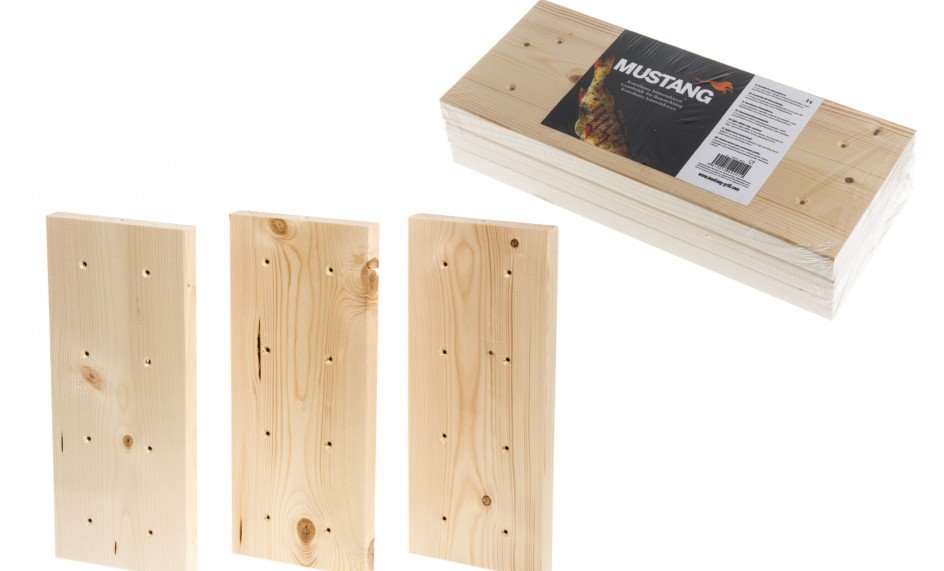 Photo: http://www.mustang-grill.eu/
Previously mentioned company
Mustang
produces a wide range of goods for grilling, including wooden board sets for smoking.

Photo: www.k-rauta.fi
Finnish shops named
K-Rauta
offer wooden planks for smoking fish with special clips.
Bon appetit and have a nice holidays in Finland!