Holiday Ideas: Holiday in Finland with Moomin spirit in Moomin land
As long as your child lives in the world of fairy tales and fantasies, do not miss the opportunity to spend few days in Finland in the world of Moomin heroes.
Moominworld in Naantali, Finland
For those who want to make holidays in Finland special and turn it into a theme journey, it is worth to visit west coast of Finland and real Moomin World. MoominWorld theme park in Finland is included in the list of the top 10 children's theme parks of the world in 2005. Moomin World is located near the city of Turku, in a small historic town of Naantali, west coast of Finland. It is the second most popular place in Finland for families with children after the
Santa Claus village in Rovaniemi
.
Moomin World is a special park with its own laws, there are no rides and carousels. But there is an island adventure, blue tower of Moomin family with attic and basement where children can climb, Moominpappas ship, caves, houses and towers, swings and ladders, theatre, as well as the world's largest Moomin gifts and sweets store. Wooden paths goes on the Moomin Valley Island. One path goes to Moomin-post, from where you can send a postcard with a special Moomin stamp. Another trail leads to the Moominmamma kitchen. It is a great place for many events, games and discovery and adventure.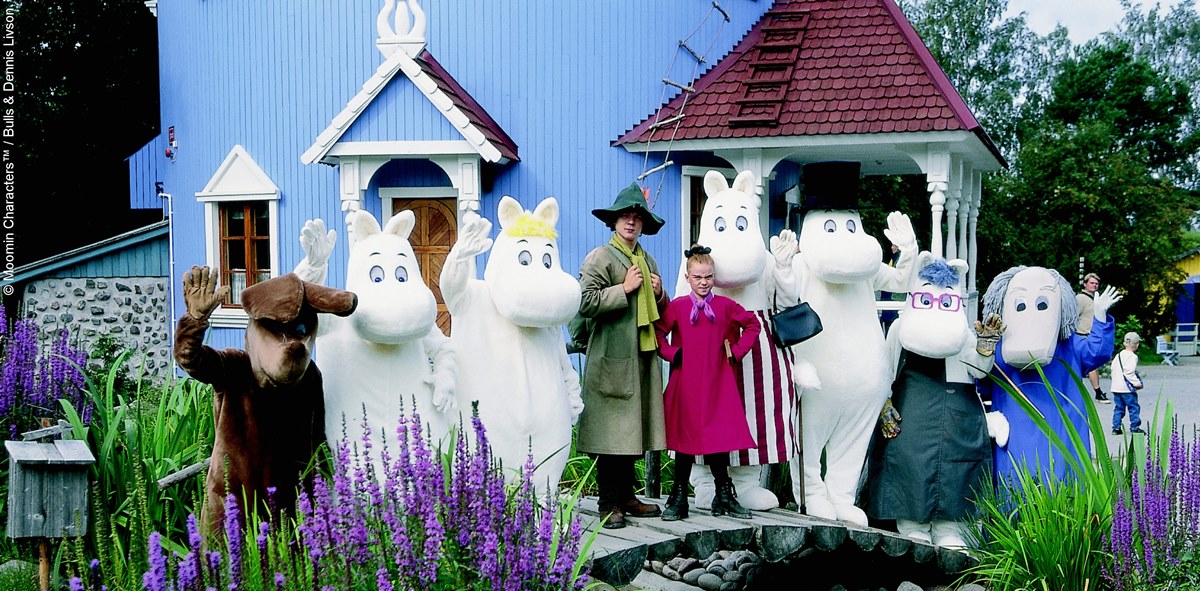 Tampere Art Museum Moominvalley
It is possible to continue great Moomins journey in Finland by visiting Tampere Art Museum Moominvalley. Moominvalley Museum devoted to original works by writer and artist Tove Jansson. Museum collections comprise around 2000 works. The museum is based on the Moomin books by Tove Jansson. The original Moomin illustrations by Tove Jansson are an essential part of the atmosphere of the museum, and the three-dimensional tableaux built by Tuulikki Pietila add to our own picture of the goings-on in the Moomin stories. The main object of the collection is a blue five-storey Moomin House that is as exceptional as its residents.
Holiday preparation in Finland
If during your Moomin holidays in Finland somebody has a birthday, a great addition to the travel party will be special birthday cake. Cake can be pre-ordered with different characters from fairy tales. There are some bakeries in Finland which can produce variety of cakes with different decoration.
Moomins are one of the worldwide recognized Finnish fairy-tale characters. In Finland it is very easy to find Moomins spirit gifts in almost any store and for every taste: Moomin souvenirs, toys, mugs and baby tableware, linens and towels, sweets, light reflectors and many more. Moomins decoration for the holiday table (napkins, caps) will allow you to create a special mood and prepare event in Moomin style.
Moomin invitation card (download)
Name cards for guests (download)
Moomins hats (download)
Moomins medals (download)
Memory and concentration Moomin game (download)
Materials are from web-site www.muumimaailma.fi
Cottages in Finland
The best way to feel the real Moomins spirit and atmosphere is to
rent a cottage
somewhere in Finland, with a great views to the lake or sea, in the middle of forest. A cosy cabin with sauna and fireplace is a great way to feel Finland and its character. You can spend evenings with your children, family and friends reading Tove Jansson books and sitting near the fireplace or making a boat trips in a very silent place.