Are you planning to escape from the city bustle and stress, and spend few days or even few weeks on the nature somewhere near the lake and forest?
Finland is the best place for
sauna-therapy, fishing-meditation and cottage-relaxation
. Finland is the place where silence, free time and space, freedom and the ability to dream are highly appreciated.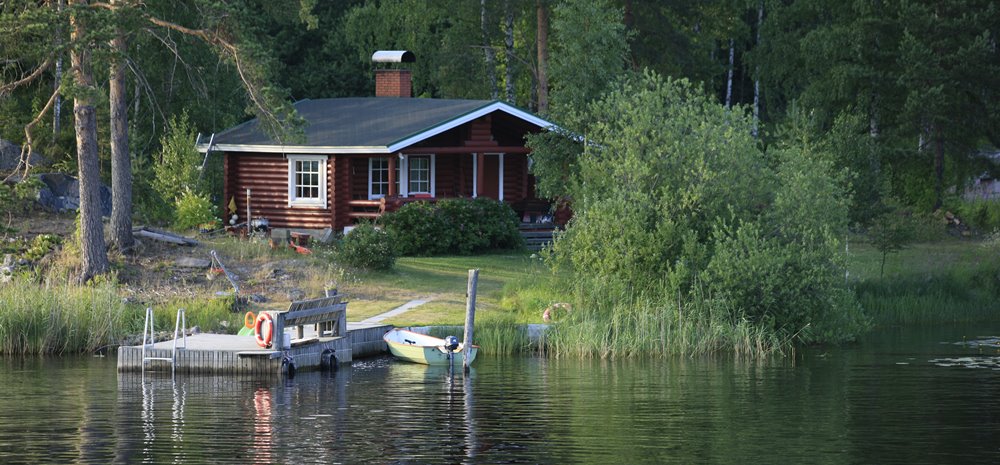 Photo: VisitFinland.com.
Cottage is one of the most important elements of the Finnish way of life and recreation. Holidays in Finland can not be imagined without a cabin in the woods, in silence, far away from the neighbours, where you can fall asleep with sounds of rustling trees and wake up in the morning with birds songs outside the window.
Some people from metropolises are wondering: 'What is there to do at a cottage during holidays? It might be boring!' Let's try to dispel these thoughts, and look at the cottage holiday like a mini-tour with a lot of nice activities.
So, let's go! Or rather, let's say
here we are!
Photo: VisitFinland.com.
After a long trip it's time to visit a warm sauna and stretch out your body on sauna shelf, enjoying soft heat and steam. It's just a real bliss when tired body is softened in a cloud of sauna steam.
Finnish sauna is the magic place not only for washing, but mostly the place for cleaning the mind and washing away all worries. Sauna in the cottage or on the lake shore is the place where you can let all the problems go away, give each cell of the body freedom and just listen to yourself. Be sure to include a visit to the Finnish sauna during your holidays.
Photo: VisitFinland.com.
There is one Finnish word 'saunanjalkeinen' (meaning 'after the sauna'). This word indicates a special relaxed feeling of the body and mind after a sauna, and avoiding to make anything too active. This amazing feeling of being physically and mentally clean is something special you want to enjoy and keep it in peace as long as you can. People from the big cities usually are in a constant rush and lacking this special feeling.
Photo: destinationlapland.com.
Fireplace is probably the second most important element in the Finnish cottage. 3 elements - air, water and fire - are inherent attributes of cottage holidays in Finland. No wonder cabins and cottages in Finland are always surrounded by nature and fresh air, cottages are build on the lake shores, and 'the taming of fire' in the fireplace is an essential addition to the harmony.
An evening spent near a fireplace with a cup of hot coffee and pleasant conversation with family and friends is just a beginning of the perfect relaxation and holiday!
3. BREAKFAST ON THE COTTAGE TERRACE
Photo: VisitFinland.com.
No doubt that after a sauna and charming evening near fireplace yesterday, the best way to start a new day is a light breakfast on the terrace of your holiday cottage.
We advise you to make a Finnish style breakfast with local delicates. For example, Leipajuusto (bread cheese or Lappish cheese) with cloudberry jam - it can be purchased at any food-store in Finland. Fresh coffee, sandwiches with local rye bread, Karelian pasties and scrambled eggs. A nice addition to your breakfast can be fresh wild berries, which can be picked up next to the cottage.
4. EXPLORE THE NATURE AROUND
Photo: VisitFinland.com.
After breakfast it's time to take kids for a little walk in the forest around to explore the nature next to the holiday home. It is so easy to meet a squirrel, a hare, a black grouse or partridge in the forest in Finland.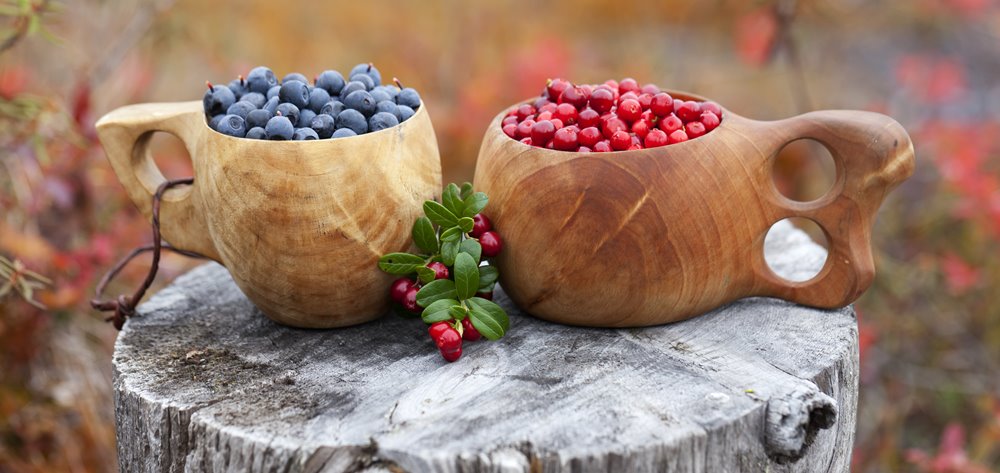 Фото: VisitFinland.com.
Everyman right - is a basic rule for nature holidays Finland. It means that you can walk freely in the forest, pick up berries, mushrooms, some herbs and fresh air as the gifts of the forest. Together with the freedom comes the responsibility to respect nature, other people, and property.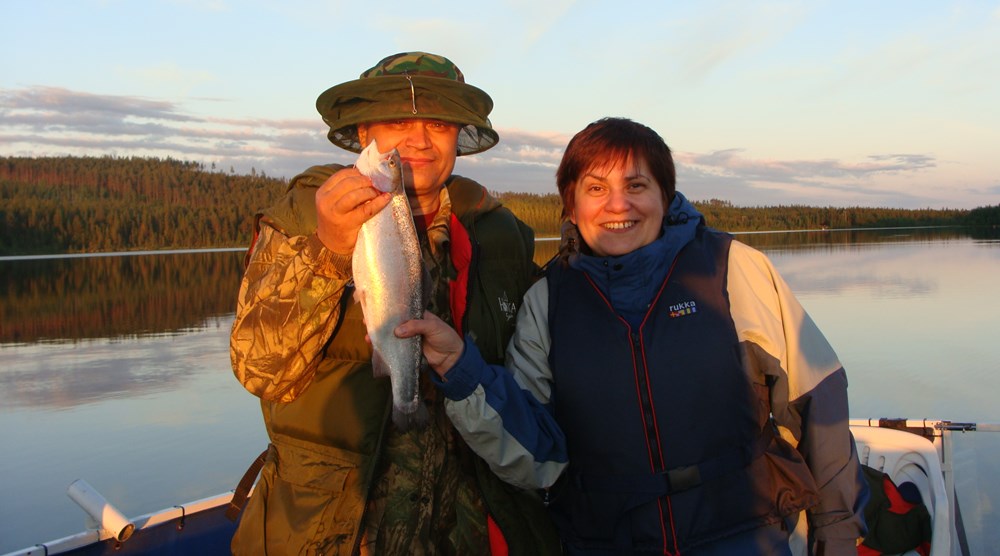 There are a lot of fish in Finnish pure lakes. Fishing is very easy to organize and try while having cottage holidays in Finland. Many Finns love fishing as a quiet type of vacation and meditation.
You do not need to have a lot of fishing equipment, just try to cast a line from the pier near your cottage - and now the first perch is already beating on the hook.
Fishing in Finland is possible all year round. Depending on time of the year only fishing methods vary. The main tourists catch in Finland is perch, pike, roach, bream, whitefish. Trout is a desired catch for fishermen and requires some special skills and fishing luck.
6. GRILLING AND BBQ NEAR THE COTTAGE
Фото: VisitFinland.com.
Summer in Finland is time for grilling! Everything that can be cooked on the grill will be cooked on an open fire only, not on the kitchen plate. It is possible to make a grill with fish, meat, sausages, vegetables, and even pancakes on special pans for grilling. You can find a selection of products in local food stores that can be cooked on a campfire.
7. EVENINGS OUTDOORS ON THE COTTAGE TERRACE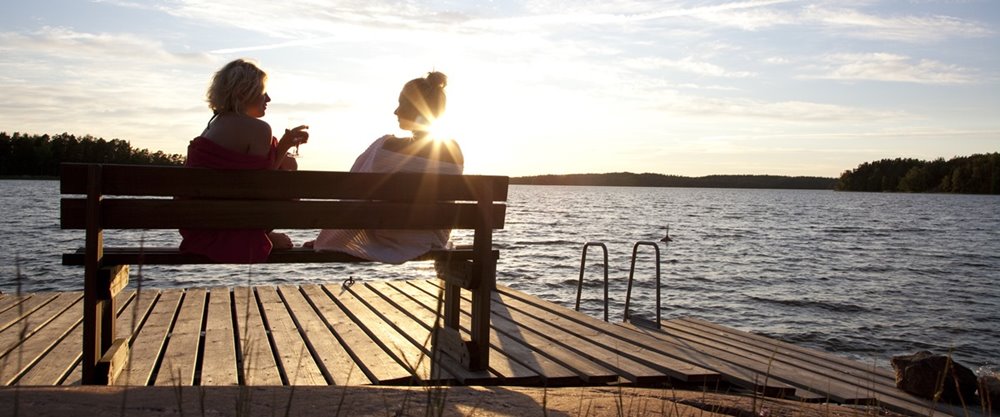 Photo: VisitFinland.com.
You will be surprised when realize how fast time flies in Finland. Several days spent countryside seem to be a moment. Finnish cottage holiday - it is long warm evenings on the terrace of the summer cottage, with a glass of wine or a cup of tea, with family and friends, amazing sunsets and sounds of nature.
Traditional countryside cottage holidays in Finland are perfect place to dream and spend time with family and friends.